Description
* Date of Expire : 15 Feb 2019

Simple but enough! Make your day with the simple skincare kit to keep the skin clean, fresh and moisturized.
One Step Pimple Clear Pad to clear in confidence
Tired of battling unwanted pimples and skin troubles? There's a much easier and simpler skin solution for you from COSRX.
The One Step Pimple Clear Pad is made with all-natural ingredients for trouble care, sebum control care, and exfoliation care !
Kill not only 2, but 3 skin concerns with one step.
It calms and soothes the skin while the active ingredients deeply penetrate the pores to flush out the unwanted gunk to clear and prevent further skin troubles.
Take charge of your skin in one step with the One Step Pimple Clear Pad !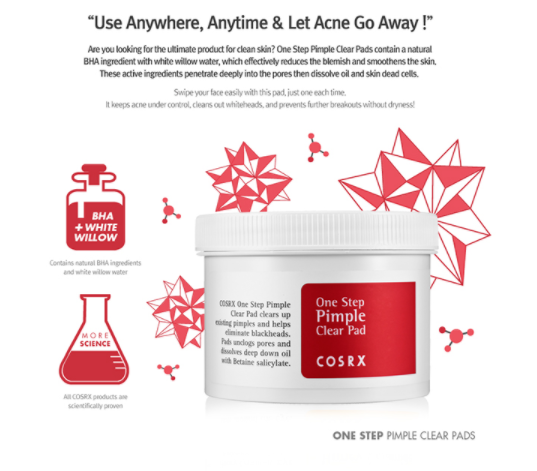 How To Use
Step 1 : Gently massage a small amount of this gel cleanser on wet skin in the morning.Rinse with tepid water.
Step 2 : Swipe the embossing side across the face avoiding eye area after cleansing. Swipethe softer side across the face to pick up the remaining debris.
Step 3 : Apply this face mask and leave for 15 to 20 minutes. Afterwards, remove the maskand pat the remaining essence for better absorption.