Description
Hypoallergenic transparent gel-type feminine cleanser you can use anywhere, anytime without water.

Ingredients
Lactic acid(1.0%), Glycyrhiza Glabra(Licorice)Root Extract, Shophora Angustifolia Root Extract.

Recommended for those who…
- Are interested in delicate zonekeeping the vagina hygiene hygienic before and/or after menstrual period
- Are concerning concerned about abnormal and/or unpleasant vaginal odor.
- Are suffering from vaginal dryness and/or itching.
- Are Interested interested in constant care for the intimate area.
How to use
- Use an applicator(single use only) two or three times a week.
01. After washing hands, open the individual wrapper.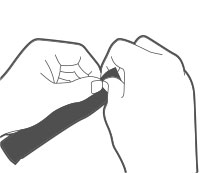 02. Take out approx. 1/3 of the applicator. Hold the body of the applicator with your thumb and middle finger. Place your index finger on the plunger lightly.
03. Hold the protective cap with the other hand and remove it by bending at a 45-degree angle inside of the wrapper.
04. Press the plunger to squeeze the gel until it stops.
05. Put the applicator back into the individual wrapper to throw it into the bin.